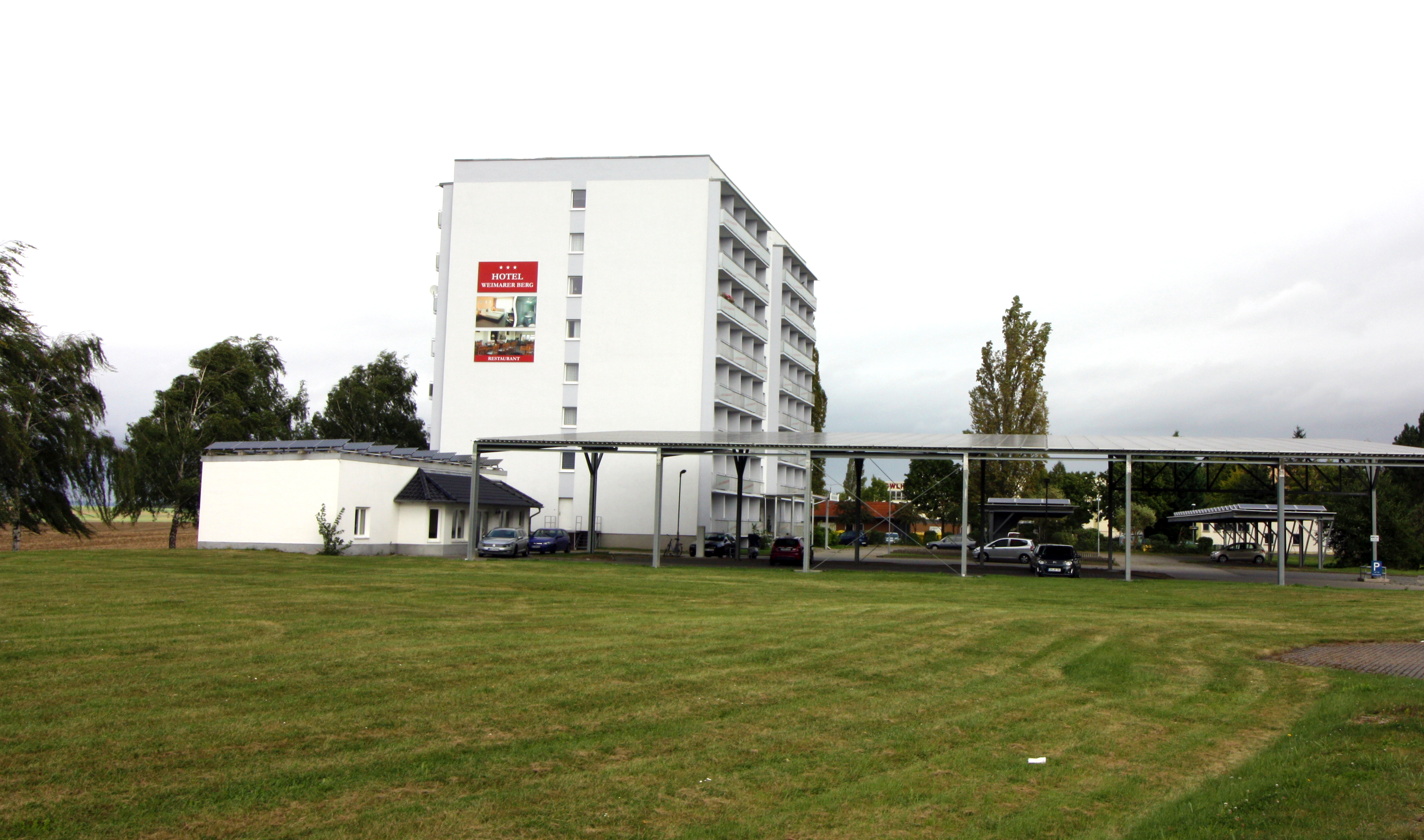 Hotel Weimarer Berg – right in the middle of Germany
The Hotel Weimarer Berg welcomes you to the Weimarer Land – the most beautiful green side of Thuringia. Due to our central location in the middle of Germany, you have a short route to the cities of Weimar, Jena and Erfurt. Visit the various advantages of the individual cities and let yourself be guided through the historic old town of Weimar, visit the botanical garden in Jena or stagger through the capital of Thuringia.

Are you eco-friendly and trying to keep your environmental footprint as small as possible? Then explore the region with your electric car and our CO2-neutral solar power. Use our electric charger stations and settle in a hotel with a positive CO2 balance.

In our house not only single travelers and couples are well accommodated, but also families and large travel groups. In addition, we have rooms with single kitchens for longer stays.

We look forward to your visit and welcome you anytime to the Hotel Weimarer Berg.
We thank you for the time you take for us and look forward to welcoming you once again in our house.
Whitsun at the Hotel Weimarer Berg
We were with a total of 11 people over Whitsun in the hotel Weimarer Berg and completely satisfied. The rooms were big enough and very clean. The breakfast was rich and varied. The staff was friendly and accommodating. We like to book again and recommend the hotel also like.
PS .: Thanks again for forwarding the charging cable for the phone that my husband had forgotten.
Overnight at Hotel Weimarer Berg
In this hotel we had 2 nights booked, we were already twice here. The rooms are ok, the breakfast is great. What bothers me there, the balcony, not nice and no chair to sit is there. That could change, with simple means, for example. green mats.
Good hotel
The hotel "Am Weimarer Berg" is clean, the staff friendly, parking in front of the hotel free of charge. The rooms are full of size. We were there with our two kids and booked a suite, kids had a TV room, we too and balcony, nice for smokers. Wi-Fi is free, but honestly, I would ask for my money back, since almost no connection is made, very weak. Nothing for entrepreneurs who always have to work. The breakfast is ok, we had 3 nights with breakfast, sausage offer was insufficient, the coffee was thin every 3 days, otherwise ok for the price. I would recommend this hotel.
We are looking forward to your visit